THE ACCORD TEAM
Accord Productions was established in 1988 by business partners, Max and Rocky Wyler. The Wyler brothers and the Wyler family have been involved and known for doing world class work in the film and video production business for over 80 years. Accord specializes in all aspects of pre-production, production, and post-production. Project in-house storage solutions and the most advanced post-production technologies that allows them to work with all work flows. From independent movies to TV Reality shows, documentaries, training, social media, PSA's, live event and multi-camera coverage for sports, concerts and fundraising events to webstreaming. The results of their hard work are evident – Accord is now South Florida's top video production company.
The Accord team guarantees outstanding work with unbeatable turn-around times and unmatched crew expertise and dedication to excellence has resulted in a loyal clientele that includes: The Discovery Channel, Sony, Univision, Telemundo, Starz, Sundance Channel, HBO, Ryder Systems, The Miami Dolphins, Miami Marlins and Miami Heat to name a few.
Max Wyler
Known throughout the industry for his joyful spirit and competitive nature, Max leads the Creative administrative aspects of Accord Productions. Born into a production family, Max grew-up learning the craft. Throughout his life, Max has gained experience in many facets of production and has worked in just about every position from grip to lighting director, from producer to director for television commercials, live sporting events, and marketing campaigns.
Max has earned several industry awards. He has also been Executive Producer on shows such as Jack of All Tastes and South Beach Classics. As a winner of 6 Telly awards, 1 Vision award, 1 Davey award, 1 W3 Silver and 1 Gold Max understands what makes great work and takes pride in being named to NATAS as a judge for the local Emmy awards and as a AICP board member.
Rocky Wyler
The Wyler name means you have film and video production in your genes. Rocky brings not only the family trait for not settling for anything but great work, but he also has more experience than most in the industry in a vast range of shooting projects.
Rocky has shot Network TV including Big Brother, House Giveaway (HGTV), and Super Bowl specials (ESPN), as well as, Corporate TV for General Electric, Bank of America and Burger King. His experience includes shooting for the medical and sports industries. Rocky is effectively the busiest camera operator/producer/director of photography in the business. Whether you are shooting a commercial or a TV show or movie, Rocky has done it and done it well. He's ready for your project to add to his impressive portfolio.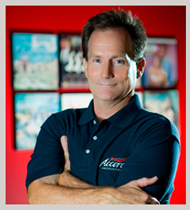 Michael Ball
Michael Ball is the Post-Production Supervisor and one of Accord's most treasured creative minds. Before Accord, Mike worked as a freelance director/producer and earned several awards for his works during this period, including recognition from the Academy of Motion Picture Arts and Sciences. His insatiable desire to learn everything in the creative process placed him in positions allowing him to learn the art of camera work and editing.
Mike completed the post production of the award-winning Orange Bowl Stadium documentary. He also worked on set for the shows South Beach Classics and Ocean Models, as well as supervised post-production work for shows Jack of All Tastes and South Beach Classics. Mike also works on the annual General Electric shoots.
Mike's technical knowledge of the multiple High Definition formats and his seasoned skills as an editor on both Avid and Final Cut Pro are invaluable.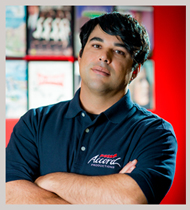 25 YEARS AND GROWING.
Change is a constant in our industry. We're proud to celebrate 25 years of growing with our loyal clients. Serving every need from the standard definition tapes to the most advanced formats, keeping on the edge of all things digital because 'change is good'.
We're 25 years and growing strong.